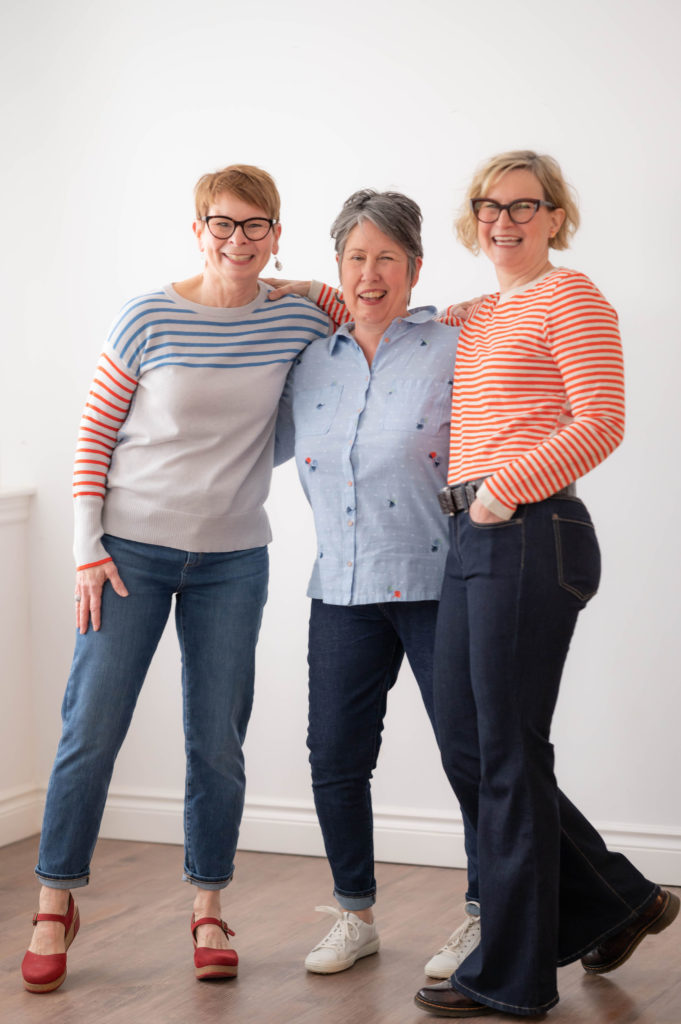 We have new styles of Yoga jeans in store, from skinny to wide leg crop. Purchasing jeans requires time, patience and the need to try on many pairs before you find the one you feel great in. It's worth taking the time,  jeans are an investment and should last for years.
It can help to know your body type when looking for jeans or any piece of clothing. To make it easier, body types are identified by fruit, shapes or both.  After reading  the descriptions you should be able to identify yourself.
Most women tend to fall into one of the categories, but you can be a mix of two. I am clearly a 'Banana'. I have no waist. I am pretty much straight up and down and my shoulders and hips are much the same width.
Leah who many of you know is a classic 'Apple". Large breasts, thin legs, and carries most of her weight at her waist.
Michele is a mix of two, 'Banana' on the top, Hourglass below the waist.
Jeans can be dressed up or down and we've tried to show you variations in the photos. Dark washes are always dressier.  When washing jeans, turn them inside-out, do up the zippers and buttons, wash in cold and hang to dry.
Ultimately, these are guidelines only and you should wear what you feel good in.
Banana:
Banana figures have a straight or athletic build and are not particularly curvy.
Your weight is evenly distributed throughout your body.
You have no real waist definition, your bust, waist, and hips are nearly the same sizes.
Jocelyn is wearing the Yoga Jeans Charli Slim leg and the Lily Wide Leg Crop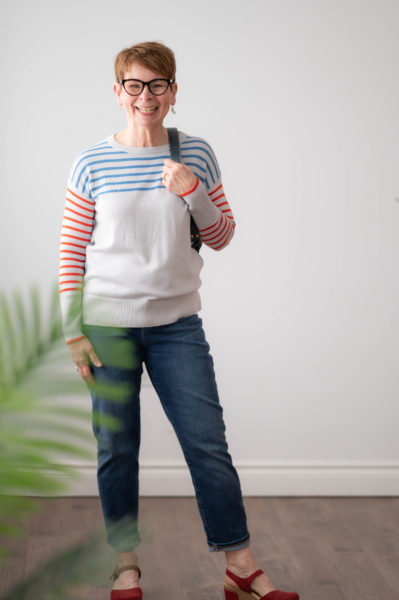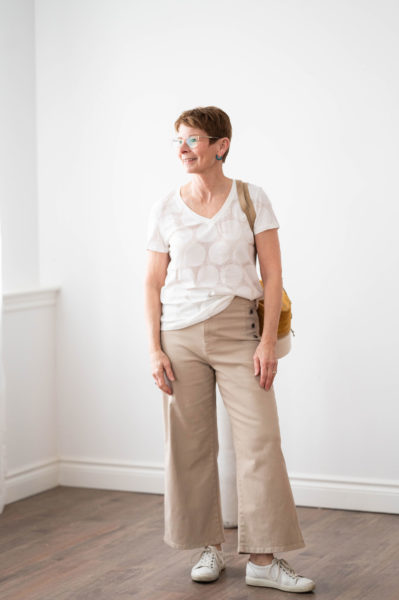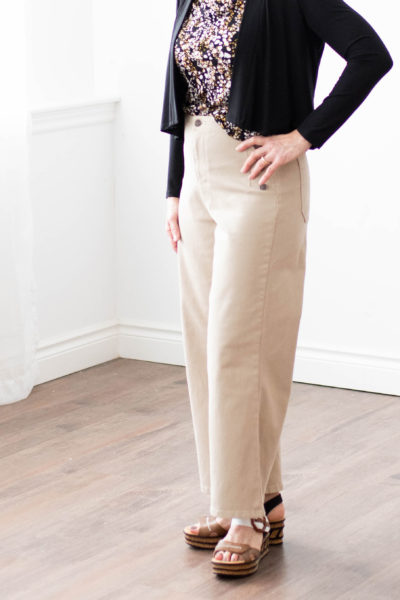 Recommended Jean Styles:
Straight leg jeans and wide leg jeans will give you an appearance of more fulness throughout the lower half.
Skinny jeans
High waisted and or low on the waist.
Don't forget to balance the upper half.
Pear: Unfortunately we didn't have a model with this body shape so the photos are Yoga Jeans models and Michele wearing the recommended styles.
This figure is smaller on top and wider at the bottom
You have small shoulders with small to medium-sized breasts.
Your hips are the widest part of your body and this is where you carry most of your weight.
Your torso is smaller than your hips and lower body.
Your waist is the slimmest par of your body.
Jeans pictured, Yoga Jeans Alex Bootcut/Dark Wash, Malia Relaxed Fit/Sea grass and the Chloe Straight Leg/Dark Wash.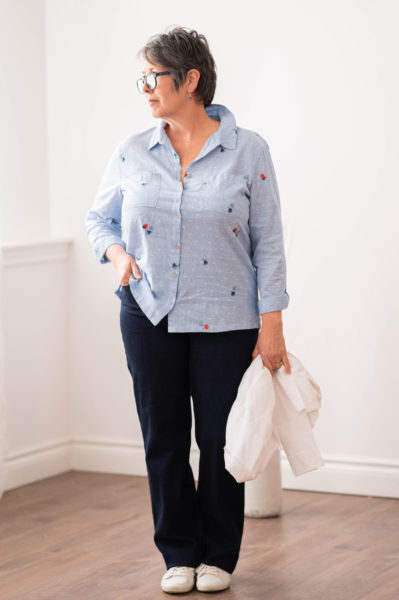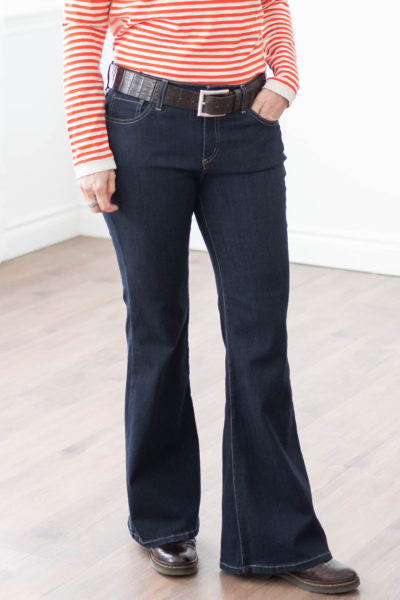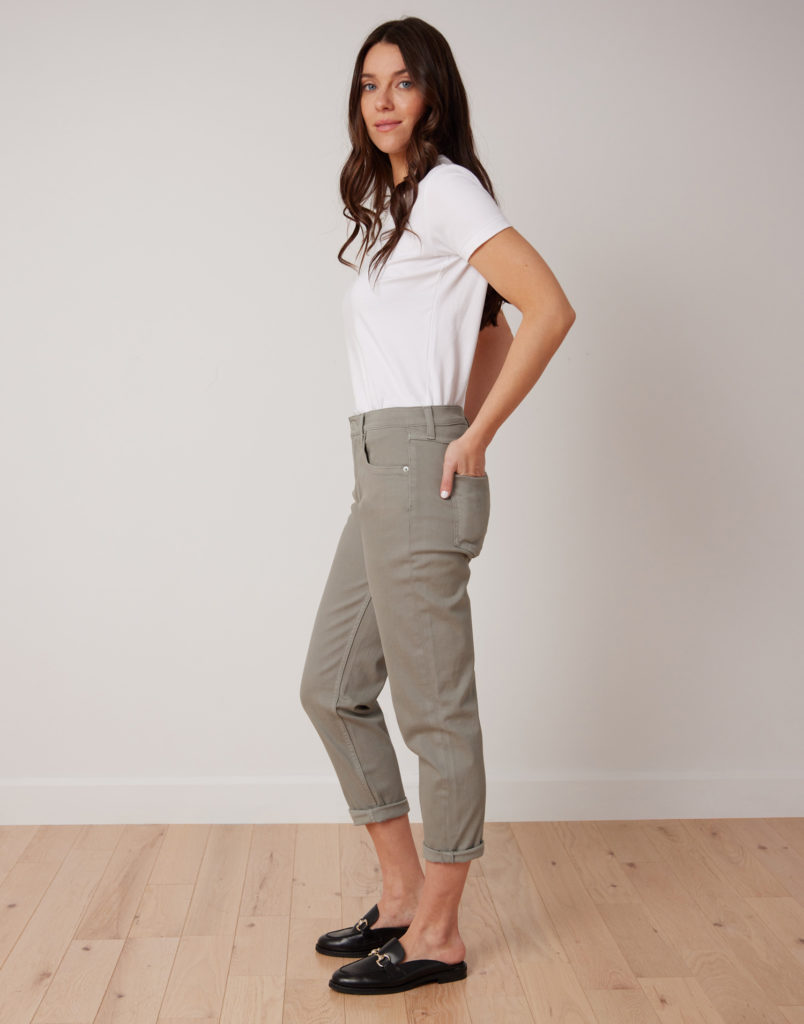 Recommended Jean Styles:
Boyfriend jeans and other relaxed-fit styles which provide some extra room in the thigh and bum area.
Nothing too loose or you may appear larger than you are.
Jeans with tapered legs and bootcut (depending on your height) styles which lengthen the look of your legs.
Darker wash on the lower half will help to make the legs appear longer and will slim the leg.
Jeans with larger pockets will diminish the butt, small pockets will accentuate it.
Apple:
Apple figures are widest in the middle.
You have medium-sized to large breasts.
The upper par of your body is in proportion with the lower half, but your waist is quite short and is where you carry most of your extra weight.
You have slim legs and a flat bum.
Leah is wearing the Yoga Jeans Chloe Straight Leg/Dark Wash and the Joni Classic Rise Skinny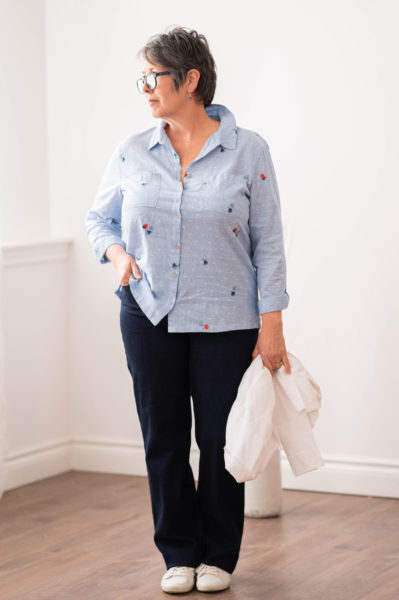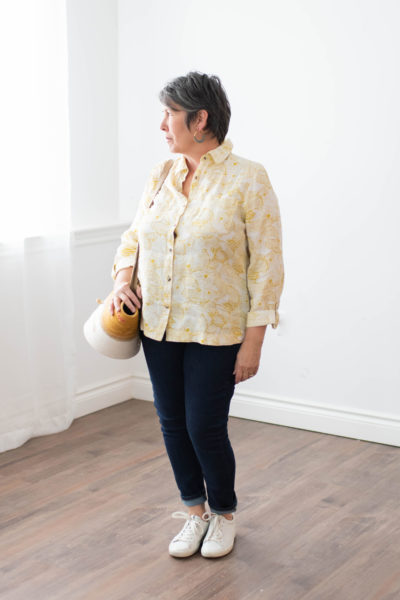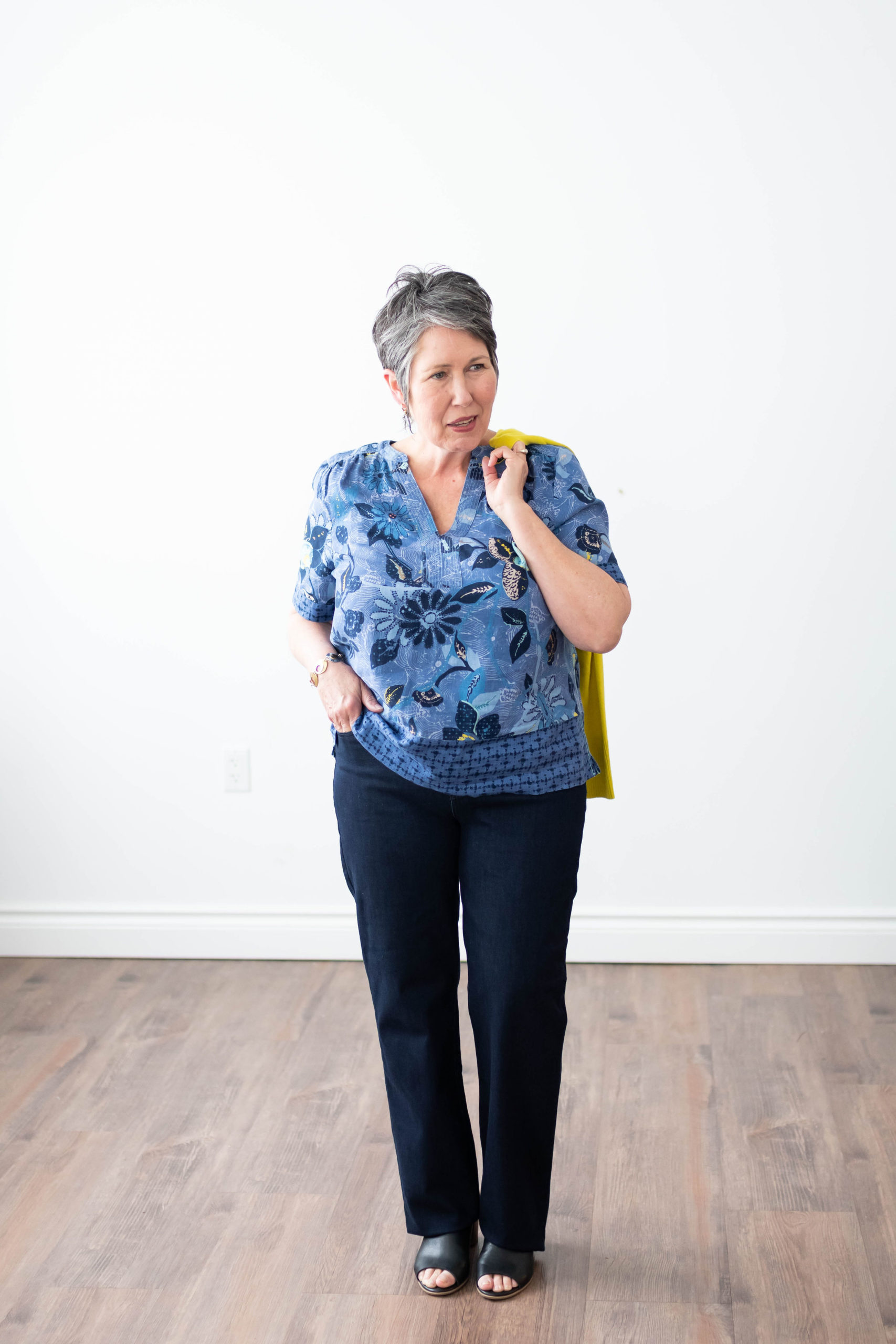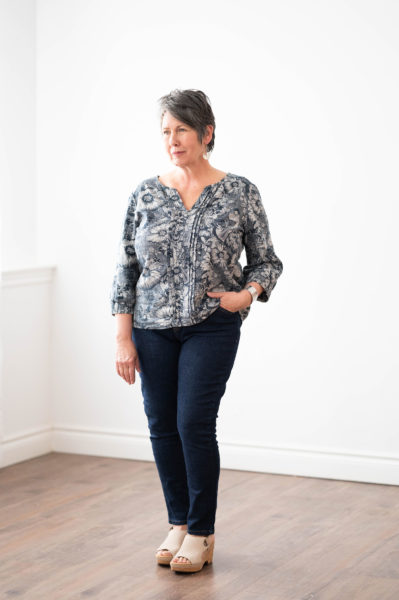 Recommended Jean Styles:
Ankle length skinny jeans are elongating because they show ankle skin (this is slimming for everyone) and define the lower half, drawing attention away from the waist.
Bootcut and flared jeans also balance your middle, if you are looking for a slimming effect.
Midrise jeans.
The Strawberry Shaped Body
Strawberry/Inverted Triangle: Unfortunately we didn't have a model with this body type so the photos are Yoga Jeans models and Michele.
Strawberries are wider up top (large chest or broader shoulders) and narrow hip area or straight lower half.
The widest part of your body is your shoulders, which are straight and quite square.
Your shape narrows as it move downwards (think of an inverted triangle).
You have narrow hips.
Your breasts are medium-sized to large.
You carry little to no weight around your thighs and bum.
Jeans Pictured Yoga Jeans Alex Bootcut, Malia Relaxed/Sea Grass and the High Rise Able Wide Leg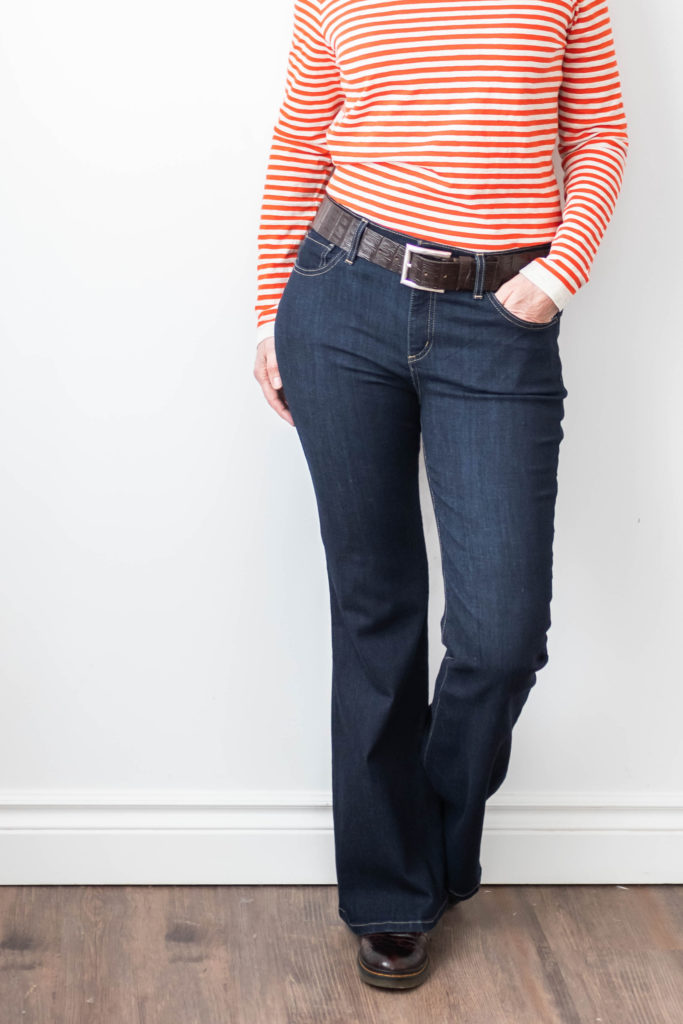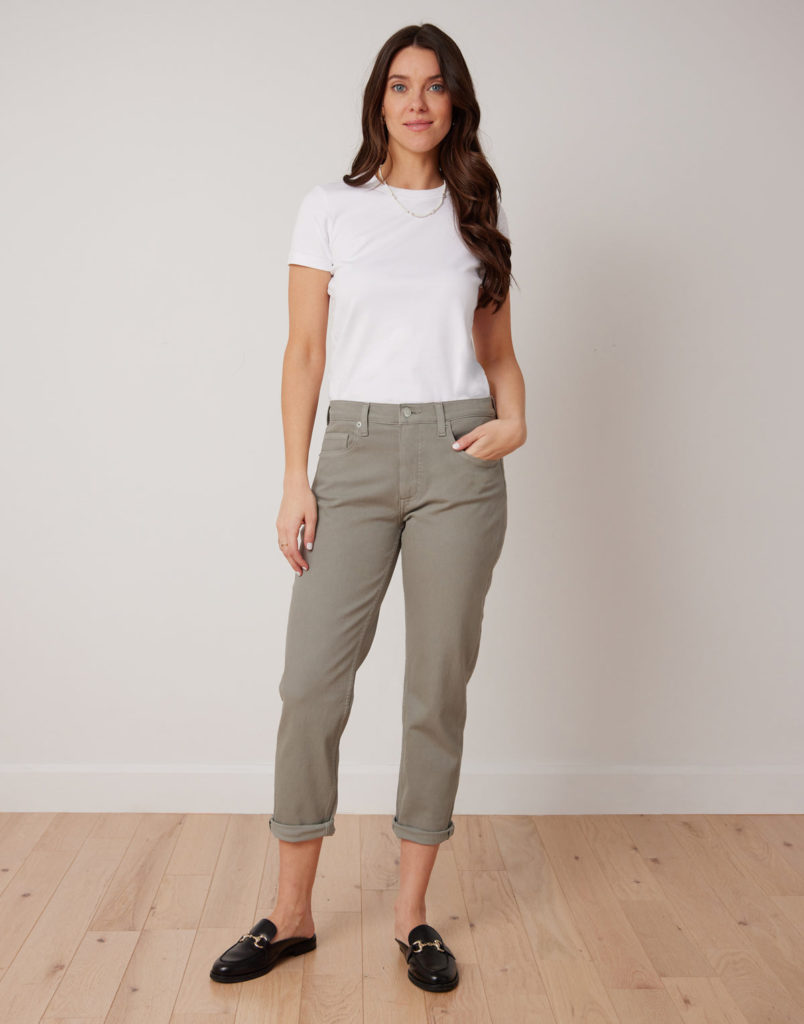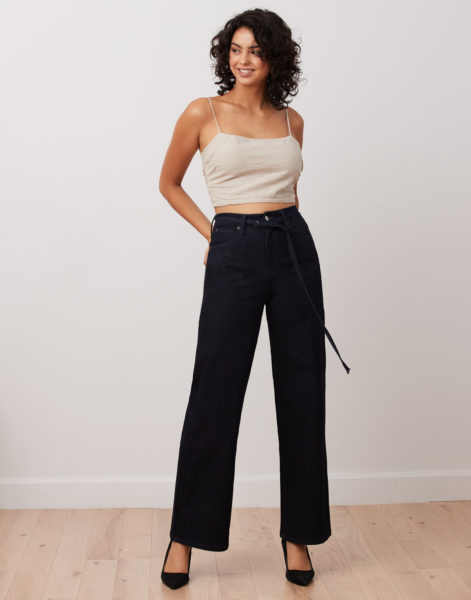 Recommended Jean Styles:
Light or colourful denim is a great way to draw eyes away from a fuller top half or chest, if that's what you're seeking.
High waisted jeans look amazing on strawberries, as do wide leg jeans, because they balance out broader shoulders.
Styles that are fitted through the thigh and butt will draw attention to the lower half and minimize the upper half, so don't be afraid to show off your legs with slim styles.
The Hourglass Shaped Body
Hourglass:
Michele is a combination of two body types, she is curvy on the bottom and a banana up top
The Hourglass is someone who has curves up top, curves on the bottom
 Well-defined waist.
Shoulders and hips are the same width and slightly rounded.
Michele is wearing the Yoga Jeans Alex Bootcut and the Emily Slim Washed Black.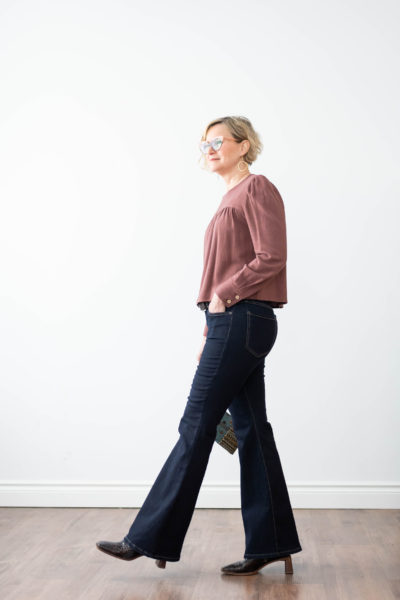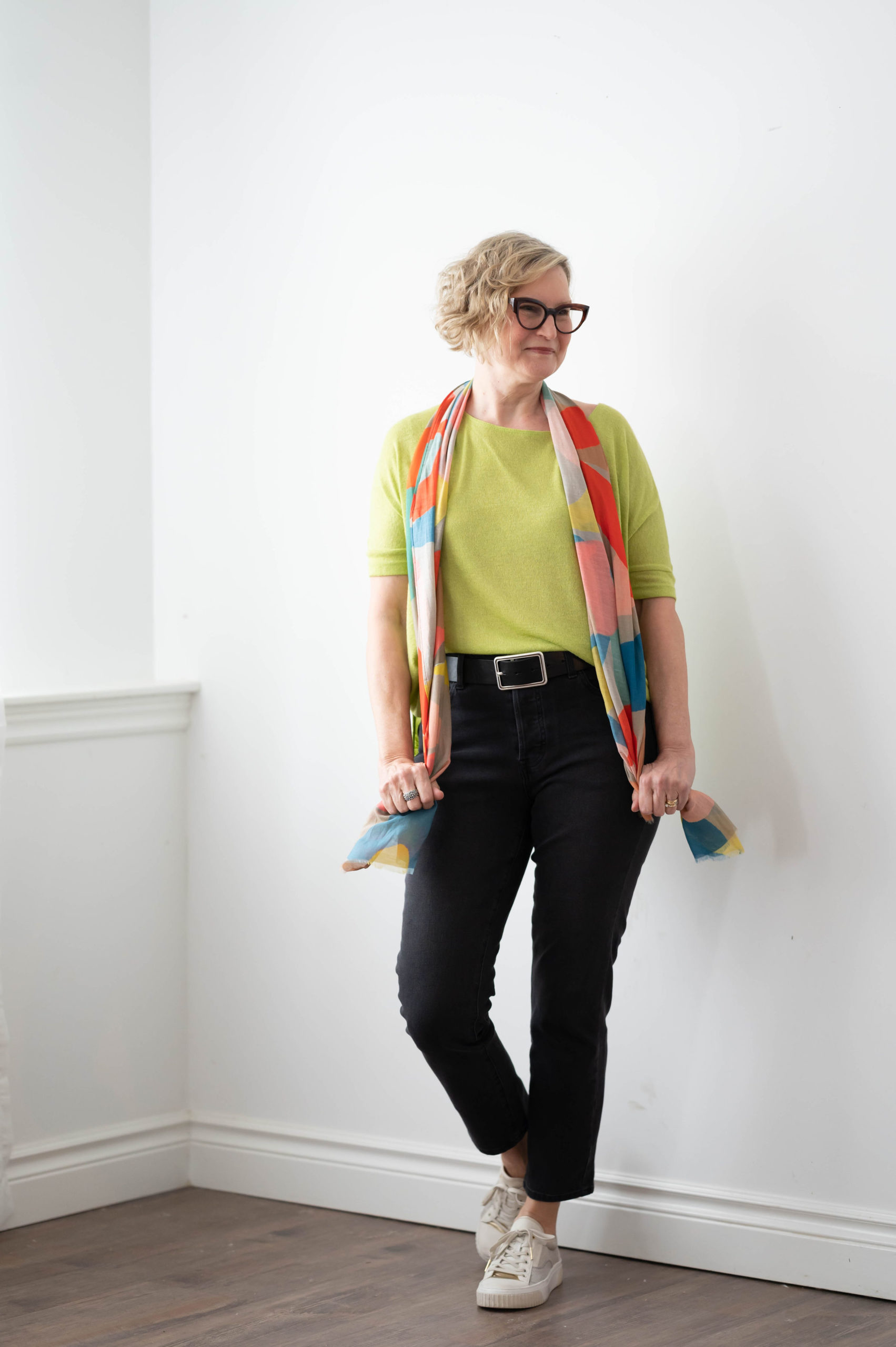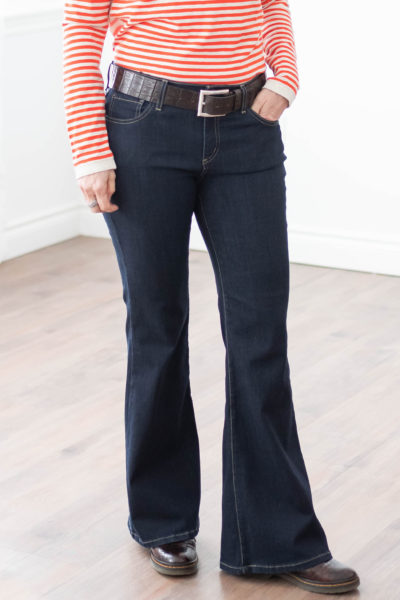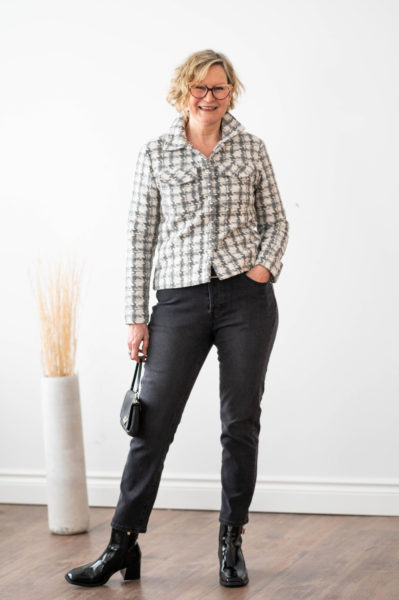 Recommended Jean Styles:
High-rise jeans to highlight your waist.
Slim or straight-cut jeans to enhance your figure.
Dark denim.
Bootcut and flared jeans as long as the flares aren't wider than the width of your shoulder.
Skinny jeans unless you are carrying extra weight. If you are, don't wear super skinny jeans.